Jharkhand Assembly Election 2019 Hemant is contesting from both Dumka and Barhet seats this time. He has already enrolled from Dumka. On Monday, he also filed form from Barhet.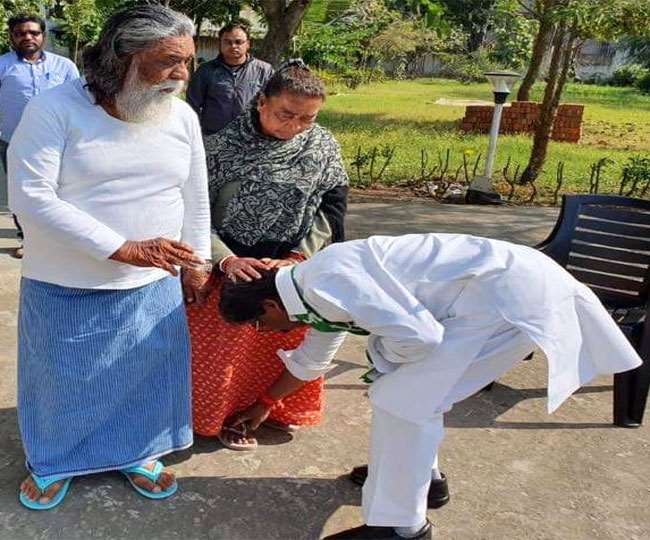 Ranchi, The nomination process has been expedited for 16 seats of the fifth phase of the Jharkhand Assembly Election 2019 Jharkhand assembly election. Several veterans, including JMM working president Hemant Soren and Social Welfare Minister Dr. Luis Marandi, filed nominations on Monday from their respective seats. While Dr. Lewis Marandi nominated Dumka, Hemant Soren filed his nomination papers from Barhet. Hemant is contesting from both Dumka and Barhet seats this time. He has already enrolled from Dumka.
Here, Hemant Soren, the working president of Jharkhand Mukti Morcha, went out to enroll in Ranchi with the blessings of parents in Ranchi. Hemant has decided to contest two seats. He has already enrolled from Dumka. Hemant contested from these two seats in the last assembly election as well. He lost the election to Dumka. He claims that this time he will avenge the defeat by winning elections from both the places.
MLA Congress candidate Badal Patralekh, a sitting MLA from Jarmundi, also filed his papers on Monday. While nomination will be done by half a dozen other candidates from Jarmundi. It has LJP, JHVM and Independent candidates. The declared candidates of the party in the four Assembly constituencies of Dumka are filling the form on the same day. There will also be a gathering at A Team Ground. Chief Minister Raghuvar Das is expected to come. However, this has not been confirmed.
LJP MP Chirag Paswan is also coming to Dumka for nomination of his candidate. Yajna will also address a gathering in the ground. Apart from Congress candidate from Jermundi, Sitaram Pathak, an independent candidate from BJP. Virender Pradhan from LJP. Sanjayanand Jha from BSP rebels from BJP. All four candidates of Jhavimo, Dr. Sanjay from Jarmundi, Prof. from Dumka. Anjula Murmu, Arjuna Marandi from Jama and Rajesh Murmu from Shikaripada will nominate.
JMM Executive President and Leader of Opposition, Barheet MLA Hemant Soren will file nomination in the office of Election Officer cum Additional Collector Anuj Kumar Prasad of Barhet on Monday after arriving in Sahibganj by helicopter from Ranchi. He will then address an election meeting held at the Shepherd School ground in Rajmahal. From there, the Navgachia Barhet will then go to Santhali by helicopter. Whence Bhognadih will reach and place a statue on the statue of Sido-Kanhu. After this, his election meeting will also be held in Navagachiya.